Before I get too far into this post, I wanted to say sorry and thank you. Sorry to anyone who commented on a post and never heard from me nor saw their comment posted. I have been having massive spam issues on my comments section and it has taken me a while to figure out what needed to be done to resolve the problem. Unfortunately, I had to delete all the comments so if you did post I am really sorry that it got lost in 15,000 (!) spams. I did see 3 from actual humans and I thank you for your kind words and hope you will comment again now that the issue is under control.
The clouds up here lately have been blowing my mind.
(I'm sneaking in some nature shots for you.)
Now thank you to all of you who have read this blog or felt inspired by the book to get outside with children in any capacity. The past 6 months have been a huge learning process for me as I navigated the worlds of being an author, business, websites, and blogging. I like to think I have gotten fairly proficient, but I am definitely still learning. So thank you again for joining me on this exciting journey. Here is an invitation to please let me know what you think so far. Is there anything you would like to see more or less of? Is there any topic on gardening or children's nature experience, progressive and outdoor education, Nature-Study, and/or anything else you would like more of? I would love to hear your feedback!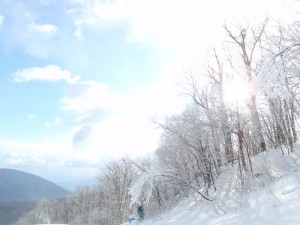 Super cold morning clouds
On with this weeks post! Beyond spending lots of time outside and growing my own fruits and veggies, I like to cook (and eat even more). Being vegan since the beginning of my formative cooking years has encouraged me to be very experimental and creative in my cooking and eating. I think it makes cooking and eating an adventure. Even though now it is really easy to be vegan and even, dare I say, becoming mainstream, it is still really fun to experiment with unique combinations of foods and spices.
I have written about Costa Rica before and even posted another recipe from there, but I have to say it again. The food in that country is so amazing. (Well the entire place is amazing.) When I saw this recipe by Chef Marcela from EL Silencio Lodge's restaurante Las Ventanas, I knew it was a prefect wintertime recipe to share. Since I spend a month or so in the mountains, as you know by now, we eat a lot of warm wintery food. This recipe blends my love of the tropics and tropical cuisine with my love of snowflakes and a snuggly warm fire—it's chocolate chili!! Hooray!!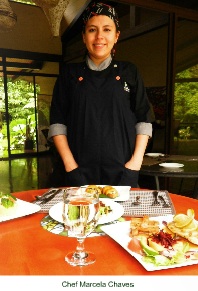 Photo Taken from the El Silencio newsletter "Costa Rica Scoop"
No, it isn't just combining your cup of hot chocolate with your bowl of chili! First, you make your favorite vegan chili recipe. I can't vouch for how this would taste with meat or cheesy chili, but how can you go wrong with chocolate, right? Give it a try and let me know!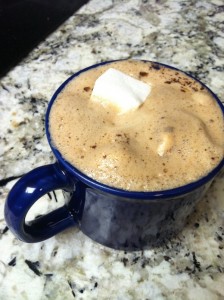 I know this looks delicious, but don't pour it into your chili! It's Dagoba's Xocolatl spicy drinking chocolate with Sweet and Sara vegan marshmallows.
Also remember, when using canned beans always rinse the beans in a colander before adding to the recipe. you will be shocked at how much that bean slime bubbles up. rinse well until all the bubbles are gone and the beans look like clean plain beans. This bubbly slime is what gives beans their gassy bad rap. A good rinse = no gas, no need to take Bean-O, and happy dinner guests!
                           Ew! Gassy!                                                                    Yay! No bubbles!
Ok so once your chili is made:
During the last 10 minutes, simmer a chili pepper cut in half and unseeded into the chili. (You may want to add more or less chili depending on how spicy the recipe already is, how spicy you like to make it, or what the heat index is of the type of chili pepper you are using)
After adding the pepper, add in 2 ounces of organic, fair trade, dark, unsweetened chocolate. Let the chocolate melt and then fold into the chili stew.
Let simmer for the remaining 10  minutes. Remove the halved chili pepper(s) before serving.
If you like things mild, or are serving this to children, leave out the chili peppers all together and just add the chocolate!
Chef Marcela says that adding the chocolate will "add delicious texture, deep color, and a smoky flavor to your favorite recipe."
Enjoy with friends and send pics of your dishes!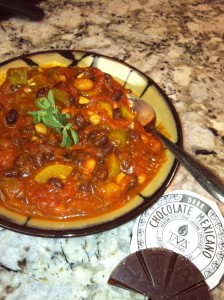 Delicious! This is the chunky vegetable recipe below with the chocolate alteration.
Seeds to Sprout:
Need an awesome chili recipe that will wow herbivores, omnivores, and carnivores? Try this one for a more chunky vegetable based chili and try this one for a meatier textured tempeh chili. Both are delicious, work great with this chocolate chili addition, and are omnivore approved.
Learn more about pepper heat indexes.
Want to learn a little more about Fair trade chocolate and why it is important to only buy fair trade cocoa products? Check out this article from The Daily Green. You can download a curriculum on Fair Trade cocoa also.
Explore a list of Fair Trade chocolate product producers with more information on the Fair Trade system and downloads of the cocoa impact report and cocoa faqs.
You can find a wide selection of Fair Trade cocoa products at your local natural foods store and sometimes in the organic sections of regular grocery stores. Or, order online from Equal Exchange. They make great chocolate and also have lots of interesting info on how cocoa is grown and produced and on the actual farms on which their cocoa is grown. They also have a Fair Trade Your Halloween program that I used with my students one year. I decided 1st and 2nd grade was too young, but this would be great for upper elementary ad beyond.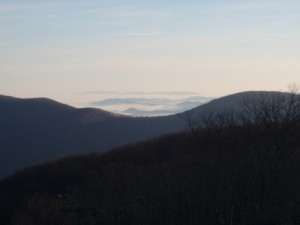 Don't the mountains look like islands floating in the clouds?