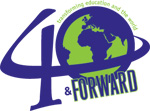 Although this spotlight came out a little over a week ago, I am still excited to post its link! I am late on getting it out because, honestly, I was on vacation. I figured I deserved a little vacation after finishing the book and before its official release so I did a little traveling. I hope you enjoy my spotlight interview. The Association for Experiential Education is such an interesting and inspiring organization and I am so honored to be presenting at their conference this fall! I copied it below, or you can read it in its original glory at AEE's blog  http://blog.aee.org/2012/08/14/member-presenter-spotlight-kelly-johnson/
This week we learn more about Kelly Johnson. Kelly is an elementary school teacher and she just released her first book!
Workshop Title:
They Gave You a Garden, But Now What? Techniques for Connecting Indoor and Outdoor Learning.
Workshop Description:
In this workshop, participants will discover the history of the school gardening movement, its role in progressive education, and the benefits of gardening for connecting modern children with nature. We will create nature journals and participants will explore ways in which nature journaling, art, and poetry can be used to enhance class focus outdoors, promote nature connection, assimilate individual experience, and assess learning across curricula. There will be time for discussing specific challenges participants may face within their own school gardens and for brainstorming ways to enhance student, teacher, and administration connection and support.
Describe your role in experiential education:
I am an AMS credentialed elementary teacher with fourteen years experience creating hands-on art and nature based activities for and with children in Montessori, traditional, and non-formal environments. I am passionate about helping children connect to nature and preserving their senses of wonder through holistic and creative nature and gardening activities.
How long have you been involved with AEE?
2 years
What have you most enjoyed about being an AEE member?
The validation that AEE brings to experiential education and the resources and history involved in such a substantial network of people focused on "real" education.
What can we expect from your workshop at this year's 40th Annual International Conference?
Participants can expect to enjoy creating journals and creatively exploring the many ways nature journaling enhances children's (and their own) outdoor experiences, while gaining inspiration and insight into the many benefits of school gardening. Art skills are not a pre-requisite – just bring a sense of wonder!
Anything else you would like to tell us about your business or workshop?
I am excited to announce the August release of my first book, Wings, Worms, and Wonder: A Guide for Creatively Integrating Gardening and Outdoor Learning Into Children's Lives! This guide not only provides adults with 36 tested lesson plans rooted in progressive education and nature-study methodology, it provides ample how-to tips for gardening with children and developing an outdoor classroom that integrates with elementary curricula and the indoor classroom. It is full color, illustrated by me, and printed on recycled paper with vegetable based inks and cruelty free glues by an indie printing house!