---
A couple weeks ago I was visiting my good friend in NYC. Her kids are nearly aging out of average playgrounds, but I had heard about a special spot on Governors Island.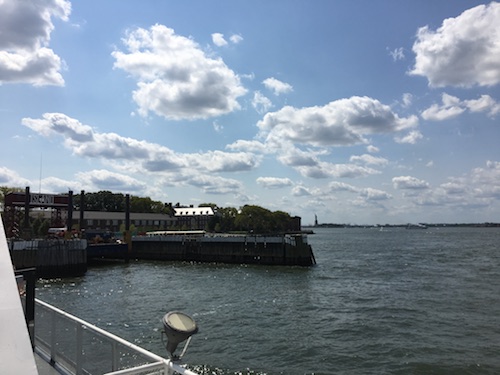 Riding the Ferry adds to the adventure!
It's an adventure playground – not your average swings and slides by any means. Think more along the lines of nails, saws, boards, and pipes. In adventure playgrounds, the children build their own fun – from forts to about anything else they can imagine up, construct, and compile.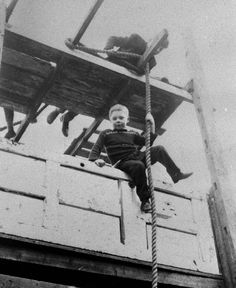 Tony from Seven UP! was perhaps the most adventurous child in the series The last installment was 56UP and he's doing great – quite successful!
Adventure playgrounds have been around since WW2 in Europe, but I didn't know of any in the states.
I first read about them in graduate school and saw footage of one in England from 1964 on a documentary I watched a while back called Seven Up! So when I heard about play:groundNYC I was very curious to check it out with some kids!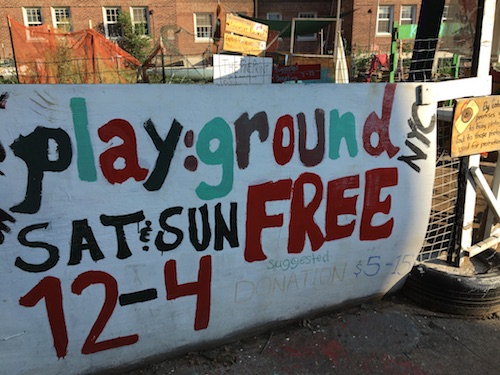 By the time we found the playground, called play:groundNYC, on the island it had just closed, but we still got a good look at the adventurous fun from earlier that day. (FYI, if you visit, it's just past the awesome community garden toward the ferry.)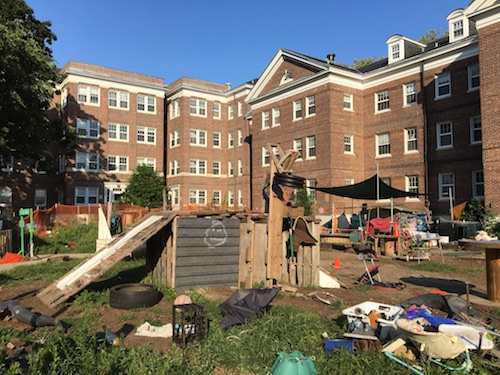 It wasn't that the area was difficult to find on the island at all, it was just we went the opposite way around the island. We got mistakenly misdirected to the small Adventure Park – which is different and is just structured mazes, climbing walls, and a small zip line.
Beware because it's a very different experience from the open ended adventure play of play:groundNYC. + pricey & the kids weren't even that excited about the pseudo "adventures".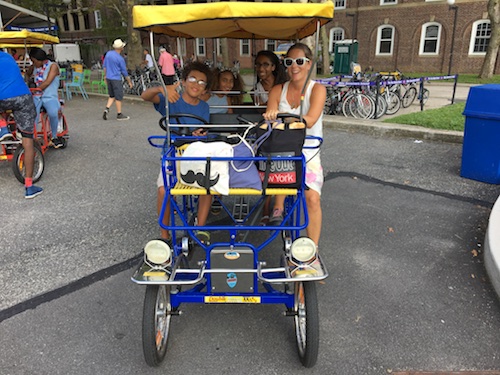 We also got enamored by the awesome bike cars!
The play:groundNYC area is created just for children and adult interference is discouraged. This aspect is quite refreshing to me – coming from always getting in trouble with the admin for not being safety strict enough when I monitored recess while teaching.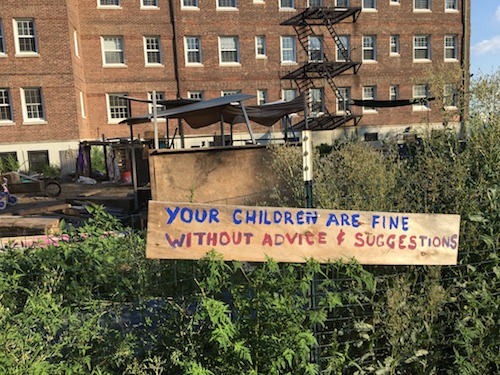 play:groundNYC describes what to expect when you visit, on top of full closed  toe shoes being required for admission:
We have 50,000 square feet of space in which we supply young people with materials for building, exploring, imagining and destroying. Some tools provided are nails, hammers and saws, paint, tires, wood, fabrics and more. Expect your child to get messy!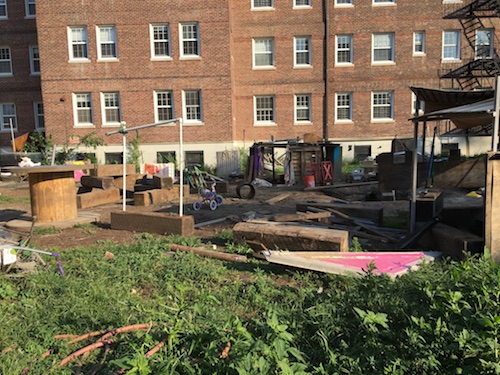 Our junkyard play area is for kids only, with a  recommended age of  6 and up. Parents can enjoy a grassy area with some shade to enjoy some time relaxing. Please note, while we do not allow parents into the older kids area, children are free to come and go. It is up to each family to decide if the parents stay waiting outside the playground or choose to go enjoy other parts of the island for a while. Please note there are  play:groundNYC playworkers in the JunkYard at all times.
There is a Family Play area, open to all ages, adjacent to our Junkyard play area. Adult supervision is required.
Please note that the ages for both the Junkyard Play area (6 and older) and Family Play area (5 and under) are recommended.
---
Sounds great right? When I saw the space I wanted to jump right in and start constructing things, as did the kids I was with – ages 10 & 13!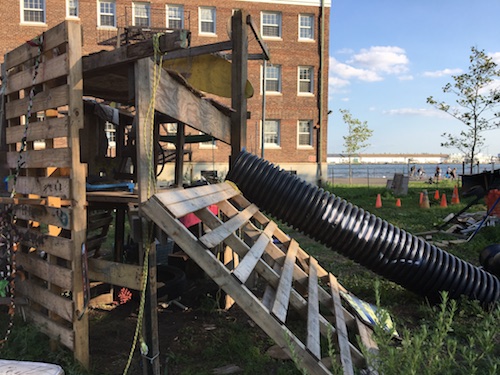 Does wild play seem a little too risky for your comfort zone? Well, maybe this will change your mind:
(If this isn't enough to get you reconsidering, check out the NPR link below for a listen and read Wild Play by David Sobel)
"It's really central that kids are able to take their natural and intense play impulses and act on them," says Dr. Stuart Brown, a psychologist and the founding director of the National Institute for Play.
Children need an environment with "the opportunity to engage in open, free play where they're allowed to self-organize," he adds. "It's really a central part of being human and developing into competent adulthood."
Brown says this kind of free-range fun is not just good; it's essential. Wild play helps shape who we become, he says, and it should be embraced, not feared.
Some educators advocate "dangerous play," which they say helps kids become better problem solvers.
---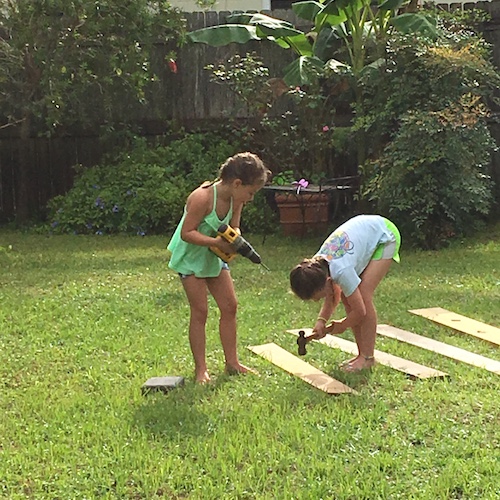 Discovering these backyard adventuring little friends, ages 6 & 7, was a sight for sore eyes! They were engaged in building a house.
Wild play is imperative for children's healthy development and it's just plain fun. So break out the hammers and saws, grab some scrap lumber, ropes, pipes, paint, and let the kids go to town creating their own adventures in all seasons!  Just keep a box of band-aids on hand to keep the grown ups quiet. 🙂
Watch a video of play:groundNYC here to check out the fun first hand!
How could you bring more adventure play into the children you know's lives? Share in the comments below!
Share your adventure pics on Instagram # and @ wingswormsandwonder
Seeds to Sprout:
Visit the Play:GroundNYC on Governors Island Saturdays and Sundays, through September 25! Or plan now for a trip next summer.
Governors Island has lots to do, so plan a day of it when you go, including 2 National Park Service run National Monument historical forts with Junior Ranger programs and really good food tents offering Caribbean food, Japanese noodles, pizzas, burgers, etc. (You gotta love NYC for having awesome vegan options everywhere.) Explore bikes to rent, big nature integrated slides and hammocks, gardens, and even a marine science high school with a boat building workshop! The ferry is only $2 per person and the fort programs are free.
Check out Play:GroundNYC's full site to get inspired to visit or create an adventure playground in your yard, school, or community. They even host private groups, parties, schools, and professional development!
Read a bit more and Listen to the full NPR talk on why adventure playgrounds are great for kids. & If you live on the west coast check out the adventure playground in Berkeley!