It's a total eclipse of the sun, heart…no silly, the moon!! It's full moon time again and fitting for October's spookiness this month is a full lunar eclipse of a blood moon! Those of you in the western side of the western hemisphere and eastern side of the eastern hemisphere you will have the best views. Californians, Japanese, and Aussies send us some pics! Europe and Africa don't get to see it at all this time.
The full lunar eclipse of a blood moon last April was visible for me around 4 am, but luckily there is no need for me to be awake in the middle of the night for this one. The eclipse will start Wednesday 10/8 at 6:25 AM EDT and last until 7:24. You won't want to miss this full moon, especially if you caught a glimpse of the blood moon eclipse last April, because it's 2nd in a series of full lunar eclipses called a tetrad. The next tetrad won't be until after 2032. I'm a planner, but I can't plan that far in advance, so Wednesday I can handle!
The bright part of the map is daytime so the eclipse isn't visible in those places.
Sorry west coasters, this time you have to be up in the night, but it will be worth it because this blood moon will seem about 5% bigger than regular full moons (and the last blood moon) because it is happening 2 days after the lunar perigee, or point in the month when the moon and Earth are closest.
Interestingly, this particular full moon has another unique event. In some places selenelion will be visible. This is when you can see the sun rise and moon set at the same time due to atmospheric refraction. Also, Uranus can be seen just to the left of the moon, but you may need binoculars or a telescope to get a really good view.
Do you remember how the blood moon got it's Halloween-tastic name? It has nothing to do with vampires or werewolves or any other creatures of the night. The moon appears red because the moon's surface is reflecting sunrises and sunsets on Earth. It's actually much more romantic than its name alludes.
And what about the name of the October full moon? It's called the hunter moon, which always follows the harvest moon, and does seem pretty perfect to also be a blood moon. You know hunting and blood and everything spooky gory, right?
So that's what's up with the sky this week. If you feel like you need to howl, then get out there! It's well deserved! And if the children in your life are acting a little like LUNA-tics you know why!
Do you have a favorite place to enjoy the night sky with children or system to keep everyone having fun?
Share your cosmos gazing tips in the comments.
Share your blood moon eclipse pics on Instragram #wingswormsandwonder
Seeds to Sprout:
Learn more about tetrads
Get blood moon eclipse viewing specifics by location on Earth Sky
Learn more about the blood moons in this post.
Learn more about seeing the selenelion here
Now the funnier links:
Did I get the old Bonnie tyler song stuck in your head with my total eclipse joking. Well get it out of your head bright eyes and indulge in a listen. You know I need you more than ever……cause this video is weirder than you remember for sure.
If you grew up in the 80s like me you surely remember Jem and the Holograms and maybe this song by the Misfits about a total eclipse of the sun. I know it's not about a lunar eclipse, but give it a listen and share it with your kids, they will love it!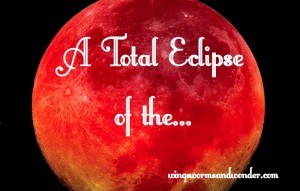 Blood Moon photo credit: geekexchange.com