Yesterday was officially World Food Day, but that doesn't mean that you can't celebrate all week or all month for that matter! This is the month to celebrate food and support our farmers through Food Day on the 24th, World Food Day (the 16th), and Farm to School month. Not to mention enjoying all the great local foods being harvested in your area this time of year.

One of the main things all these food awareness events have in common is a focus on the way we farm and consume farmed goods. If we help create a culture that is more conscious about buying locally grown foods and more supportive of sustainable farming practices, we can begin to fill all the hungry stomachs out there. Hunger is a major focus of World food Day and while hunger is a very big fish to fry, educating our students in developmentally appropriate ways about how they can make sustainable food choices is a beginning.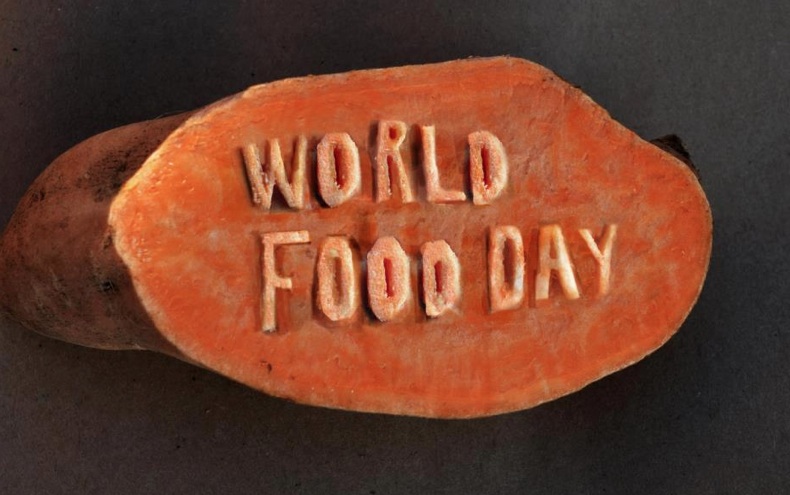 "ONE's campaign was all about the sweet potato. "The sweet potato is a superhero. It's a symbol in the fight for a global nutrition plan that can save millions of children and help build a healthier and more productive future".
From celebrity chefs and mom bloggers to churchgoers and YouTube stars, ONE members mobilized around the country on World Food Day. ONE called on world leaders "to make measurable commitments to reduce chronic malnutrition for 25 million kids by 2016 so they can reach their full potentials". ONE held events for their Sweet Potato campaign all over the country. Events included panels, cooking demos and tweet heats to Secretary Clinton to put nutrition on the global agenda." (photo credit World Food Day)
World Food Day is described as being "Established by the Food and Agriculture Organization of the United Nations (FAO) in 1979, World Food Day, October 16, was first observed in 1981. Organizations around the world mobilize advocacy campaigns and events on October 16 to strengthen the political will to end hunger.  World Food Day offers the opportunity to strengthen national and international solidarity in the struggle against hunger, malnutrition and poverty and draw attention to achievements in food security and agricultural development."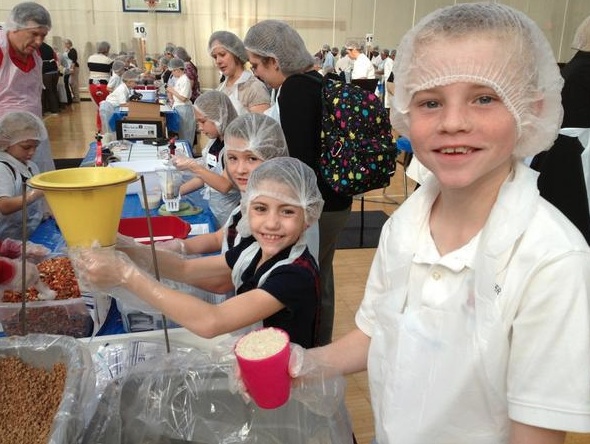 Jr. Lunch ladies happily measuring out food in St. Louis (photo credit World Food Day)
I have to admit I am slightly skeptical about this considering all the subsidies that go into commercial farming and the almost penalties weighed onto organic and small family farmers as well as the way the government stockpiles grain that goes to waste in order to keep prices up. I am also critical (in the academic sense) of how World Food Day is all about the US. Hmmmm…there are many things that the government does that ensure food insecurity around the world, although this is not the place to get into that, that also make this day seem slightly contrived and America-centric. I know I just did a 360 on you here, but I just wanted to drop a thought regarding the fact that while I am presenting this to you as a possible resource for your class, I am not 100% sure about what I think of the way it is presented as a western initiative. I do take comfort in the fact that it was originally developed by the UN though, so that definitely adds a global perspective. Either way, presented in the right way, that is perhaps by sampling international cuisine, it could be a great lesson to explore in the classroom, especially with older students examining ideas surrounding making "the basic human right to food a reality for everyone."
"ONE Campus Challenge also got involved. University and college students across the country convinced their school cafeterias to put sweet potatoes on the menu on World Food Day and used the emphasis to raise awareness on the role nutrition plays in hunger." (photo credit World Food Day)
I will leave it to you under the full Hunter's moon to decide what you think. I think probably anything we can do to alleiviate suffering of any kind is probably a good choice. What do you think?
What is your favorite sweet potato recipe? Mine is my grandma's sweet potatoes with marshmallows, veganized of course!
Seeds to Sprout:
Discover more about the full hunter's moon, named for the fattened deer ready to hunt and the ease of hunting over dying foliage. Friday October 18th is this month's full moon. Take time to check it out.
Tell me this sweet potato soup with ginger and vanilla recipe from the post punk kitchen doesn't sound delicious and nutritious! I'm going to make it this week!
The World Food Day site has videos and info about planning the day's events
Resources for planning a World Food Day event (next year maybe?)
Are you a Montessori teacher who needs CEUs? Well sign up for my AMS webinar "Using Gardening and Art to Preserve Wonder and Weave Learning Across Montessori Curricula" on Next Tuesday, October 22.