Happy full moon! This month's featured moon is the corn moon. September's moon gets this name because it is around the time when the corn was ready to harvest. Pretty simple, but sometimes when the autumnal equinox occurs in September this moon is also known as the full harvest moon. Will you be able to get out tonight and welcome in autumn with the moon rise? I hope so!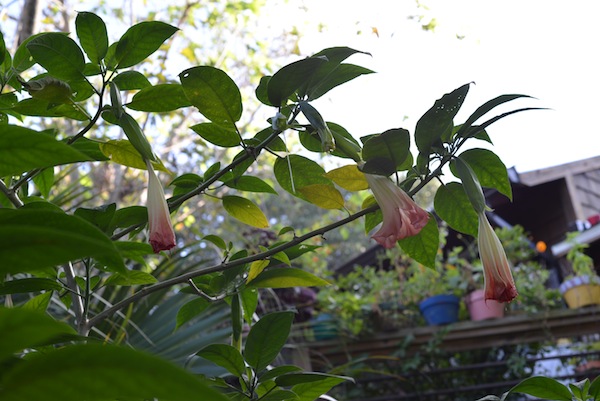 There are plenty of plants for the bees to pollinate in Peggy's backyard!
In honor of this seasonal shift and moon, I am so happy today to present an interview with real life backyard beekeeper Peggy Nolan. Peggy is a fun and knowledgeable lady with a passion for nature and a special way with all living things. A backyard beekeeper, singer, storyteller, Montessori teacher, gardener, community environmental activist, mother, artist, grandmother, world traveller, wife, bread baker, and much more, Peggy lives life in tune with the nature around her and by example inspires others to do the same. Let's learn a little more about Peggy and how enriching backyard beekeeping can be!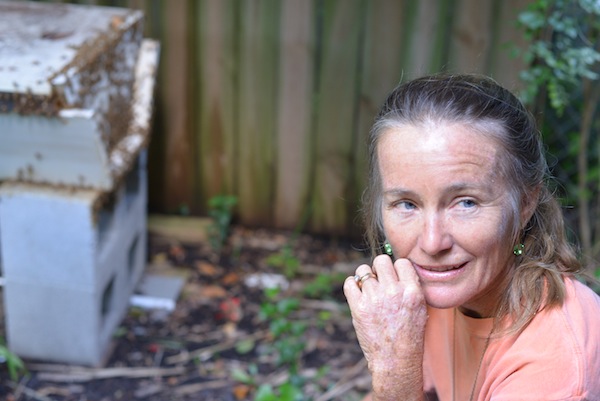 Peggy from her hive chair
Where did inspiration come from to connect with bees as a species?
I don't really know!  Having grown up on a dairy farm, I appreciate sharing space with other creatures and, as a mother and teacher, I have always had the usual variety of mammals, birds, fish and reptiles around the house and classroom. And spending lots of time outdoors, insects and other wild creatures have also been a part of my awareness and consideration. I share space with bees and other pollinators and I love honey as a healthy food!  I suppose that is plenty of inspiration.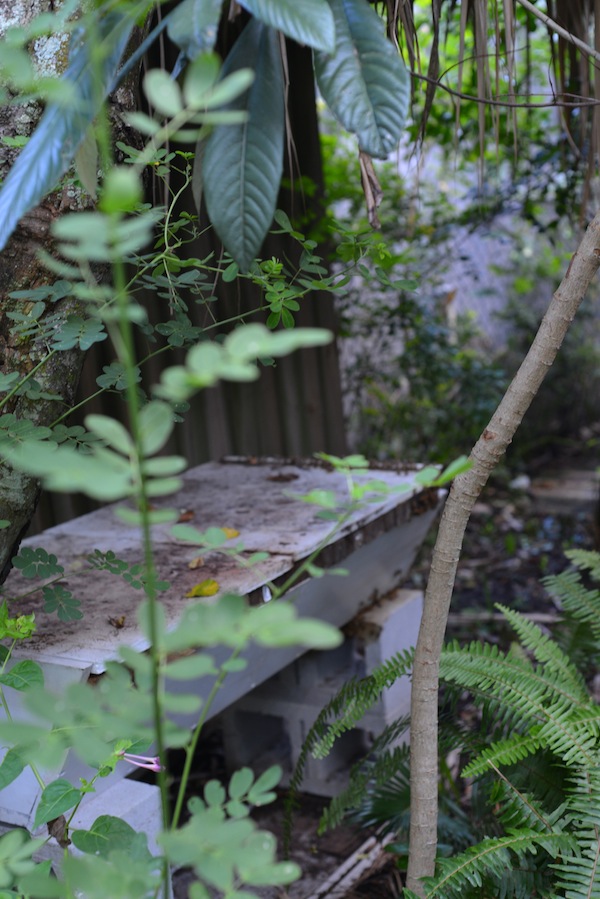 The hive is nestled in the far back corner of the backyard
When did  you begin to keep backyard bees and what prompted that decision to go from bee enthusiast to beekeeper?
As my home garden expanded on a very small lot here at the beach, I thought to bring either honeybees or chickens into the environment.  Research showed me that a bee hive was the best choice!  So with a friendly neighbor I took a Saturday backyard beekeeping course from the Clay County Extension Office; within the year we had joined forces with another neighbor and decided on her backyard for the first hive.  We bought a Langstroth hive and ordered bees to pick up from an experienced beekeeper; we had become backyard beekeepers!  Six years later we have experienced swarms (losing and catching), battles with varoa mites and hive beetles, colonies lost, and gallons of exquisite wildflower honey to consume and to share.  I now have a topbar hive in my own backyard as an alternate method of beekeeping in which the bees construct their own wax combs. Though the honey production for us has been lessened, the honeybees seem productive and less vulnerable to the pests that plague them.  It is an experiment!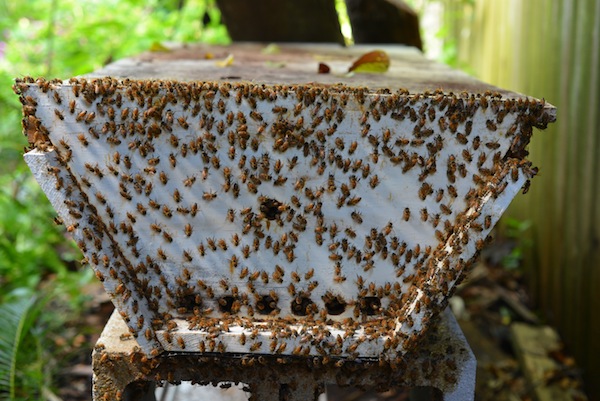 In the fall there are so many bees they don't all fit in the hive!
Over the years, what have been you biggest challenges and rewards?
The challenges of beekeeping include previously mentioned pests; timing—opening up the hive for inspection and honey extraction too little or too late; staying calm under pressure of attacking guard bees.  The rewards—so many!  Health-giving honey and beeswax, the satisfaction that I have made a home for important pollinators,  and the peace-of-mind that the bees inspire….a perfect meditative spot.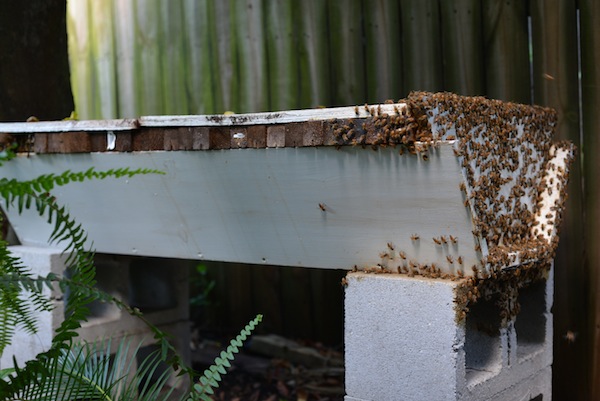 Peggy's top-bar backyard hive
Do you have a particular childhood nature memory that sparked your sense of wonder about bees?
A childhood memory…Ha!  Growing up barefoot on the dairy farm, it was inevitable that I would step on a honeybee and get stung.  So wandering in a field of clover one day, I did get stung and I ran home crying, I'm sure. I came out of that experience not with a fear of bees, but a feeling of respect.  And when I discovered this poem by Emily Dickinson years later, it did become a favorite!
It's all I have to bring today,
This, and my heart beside,
This, and my heart, and all the fields,
And all the meadows wide.
Be sure you count, should I forget, —
Someone the sum could tell, —
This, and my heart, and all the bees
Which in the clover dwell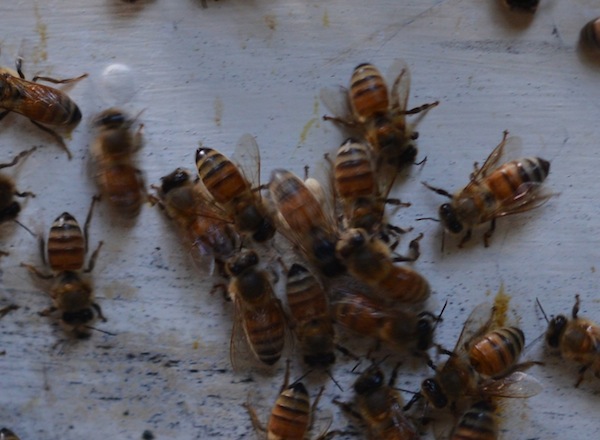 See the bee in the center has white on its legs, these are pollen sacs being carried back into the hive
What is your favorite smell in nature and is there a story why?
A favorite smell—of course, honey still in the hive (warmed up by summer heat and amazingly fragrant).  Also, a personal smell wrapped up in childhood memories, the smell of cow manure!  It's sweet in its own way when cows are grass-fed.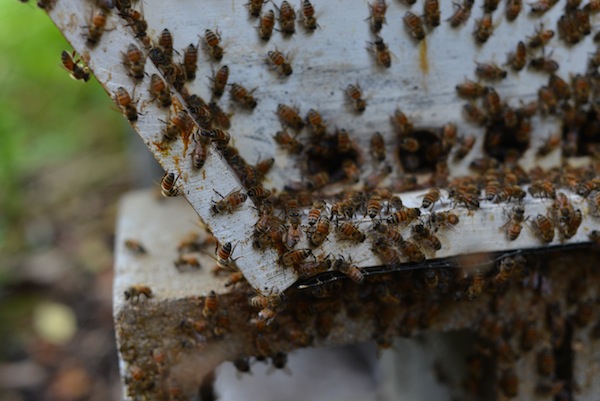 The bees enter the hive through these holes in the bottom
Seeds to Sprout:
Watch the trailer for the film Queen of the Sun. Peggy recommended this to me and it is absolutely BEAUTIFUL! It's on Netflix too.
Check out some tricks of the trade in a backyard beekeepers journal at outdoorplace.org
A beautiful and informative PDF download guide on backyard beekeeping in the southeast from the Alabama Extension Agency's James Tew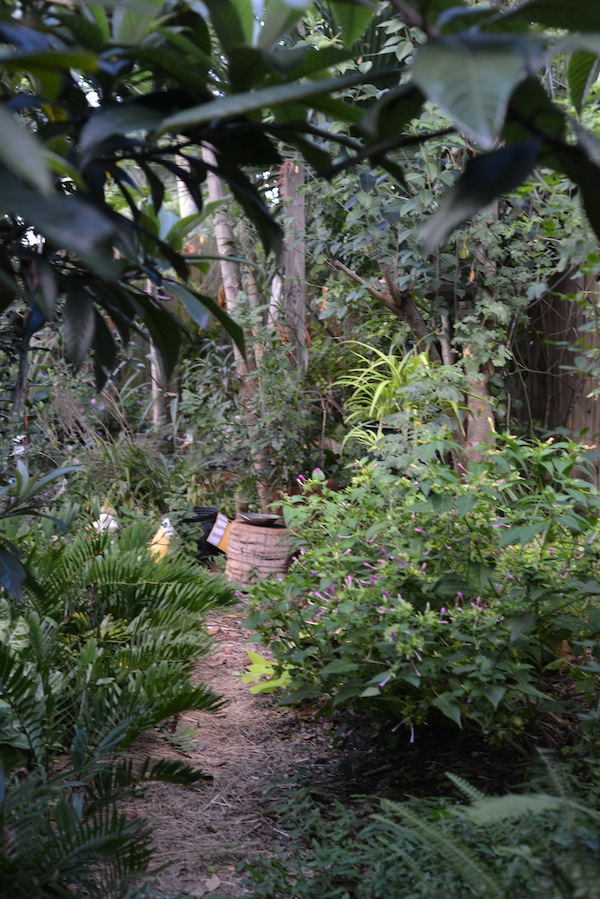 The bees fly through this pathway out into the world