What on Earth is borage you may be thinking, or maybe you're thinking duh, borage, no big deal. While I had heard the name, I had no idea how interesting this herb was until I discovered it planted in the children's garden*. I had a vague memory of a friend telling me she had planted some herbs around, but it wasn't until I saw these striking fuzzy flowers that I wondered, "What is THIS?"  A friend I was weeding with identified it for me and I went home to do some research.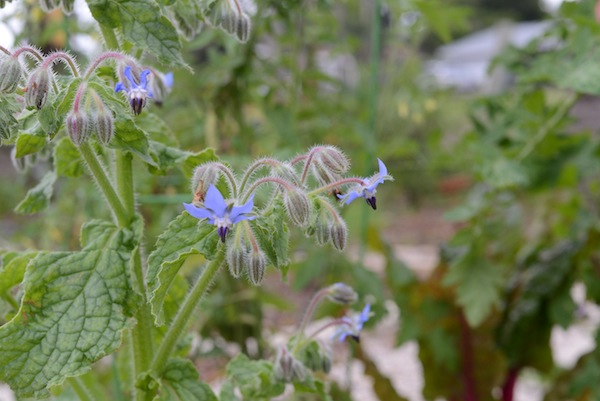 Are these eye catching or what?!!
Originating in the Mediterranean, borage is sometimes known as "the hero's herb" because simultaneously relaxes and relieves anxiety while promoting courage. It has been used historically, and currently by many herbalists, to relieve the nervousness the precedes travel and surgeries. After surgery, borage is used for promoting healing by supporting the adrenal glands. The seeds have been found to help relieve eczema when taken internally and also used externally on the inflamed area. After reading about the seed's use, I realized that I had seen borage oil in the flax seed oil section of natural food stores. It is sometimes combined in a flax blend.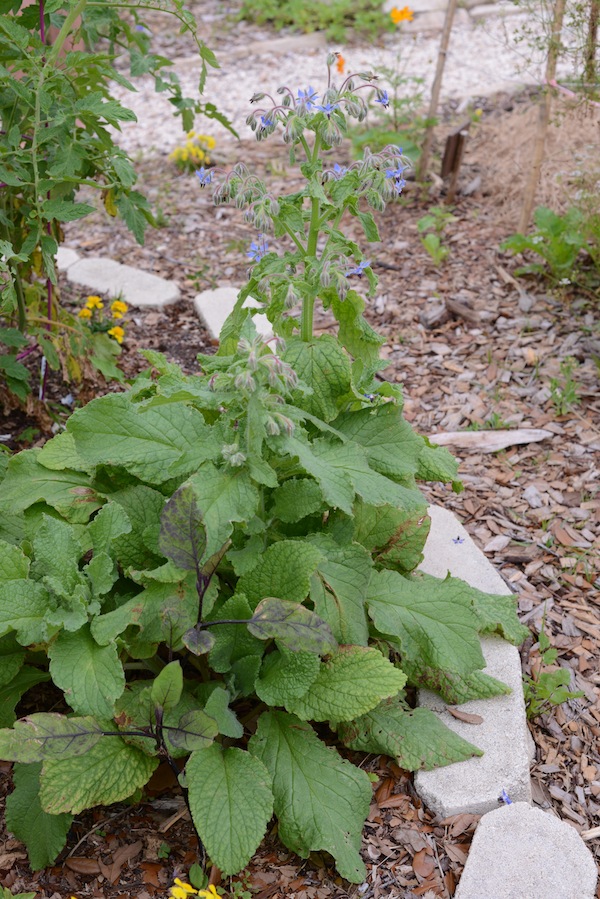 This picture was taken about 2 1/2 weeks ago and I'd say the plant is almost double this size now! Those little eggplant peeping through have been fully overtaken.
Borage gets quite large. The books say 2 feet high by 3 feet wide and I believe them! Borage is not cold hardy, so plant it after all danger of frost. In the fall it will die back once cold weather comes, but it reseeds itself so you will have borage for the next year! I like plants that fend for themselves!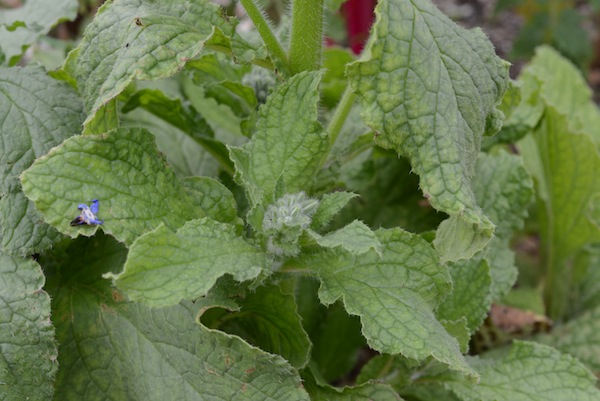 Can you see how the smaller leaves are have less stiff fuzz than the larger? The fuzz on the teeny leaves is like soft short fur. You can also see the stalk is a decent size for chopping up.
Young borage leaves, before they get hairy and spiky, can be used in salads or on sandwiches. They have a light cucumber-esque flavor. The older leaves can be used in soups or dishes where they will be cooked down and the fuzz will go away. The flowers are edible and can be used in drinks or on salads. The stems are edible too and can be prepared similar to celery and chopped and added to a salad.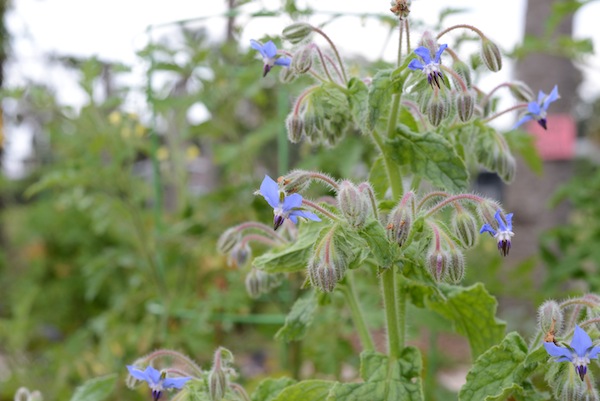 Wouldn't these flowers be fun in ice cubes? Below is a recipe link and they recommend putting them in lemonade, yum!
I highly recommend planting this texturally unique and tasty herb as a staple in any sensory, children's, or herb garden. Its edible versatility, fuzziness, and pretty flowers make it a great eye catching and delicious addition that children and adults alike will find intriguing! I plan on featuring it at our  children's "Raw Foods in the Garden" workshop this month!
Seeds to Sprout:
All my non-expereintial information on borage came from Judith Benn Hurley's wonderful book The Good Herb: recipes and remedies from nature. This fantastic book was a generous gift to me from an inspiring lady- thanks Bobbie!
Tips on growing borage and its uses from the Herb Gardener blog
Growing borage from a permaculture view- Permaculture News: all about borage
Extensive Borage recipes ranging from drinks to fritters on Bouque Garni Cusine Organique. I'd take the wine recipe eliminate the brandy and replace the wine and champagne with sparking grape juice (and also maybe apple or cranberry) and make it with children. How fun would that be!
(*In case you are wondering what children's garden? Along with another inspiring lady, we create educational programming, facilitate workshops, maintain, and basically keep things looking pretty and running smooth up at the Beaches Local Food Network Organic Community Garden's Children's Garden in Neptune Beach, FL.