Drum roll please…………
The Wings, Worms, and Wonder
(Cue the cymbal crash!)
I am so elated to finally officially announce this project!  Summer 2015 I started with the intention of making a flower symbolism coloring book, but thanks to the unexpected putting the project on hold, a year and a quarter later I love the project even more!
If I hadn't stepped away from the project, it would have been good, but now I think it's great!!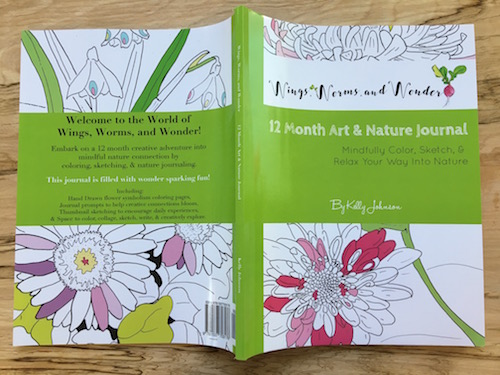 My new book is a workbook journal that you write and draw right into. It includes 25+ hand drawn illustrations of the natural world awaiting your colored pencils. Plus plenty space for you to fill with your own impressions and connections of nature's wonder!
When I was creating the 12 Month Art & Nature Journal, I had adults in mind. But I since then, I discovered that older children 9+ are enjoying it too! This is an exciting turn of events because you know I love multi generational projects!
And the fact that it is so affordable (at only $10) makes it realistic that a family, group of friends, or class could journal together each in their own book!
Want to hear more about why the new book is an awesome way to encourage creative nature connection?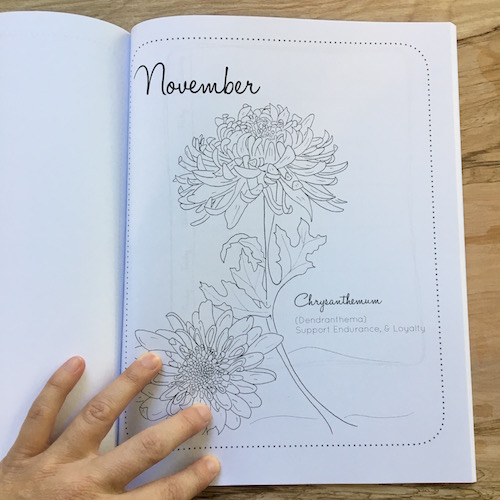 Month by Month
The 12 Month Art & Nature Journal is the perfect way to nature journal your way through the year!
In the city, suburbs, or wilderness, this journal will inspire you to seek and connect with the nature right outside your door. There are no dates, just months, so relax and jump in anywhere, anytime of the year, to begin your creative nature journaling journey!
Each of the 12 month sections offers:
* Full hand drawn coloring pages featuring the flower of each month as well as the symbolic attributes of each flower
* Pages with a template for daily nature thumbnail sketches to bring a teeny bit of nature into your everyday
* Prompt pages that includes a hand drawn illustration to color as well as space for you to creatively explore the prompt in your own ways
* & Free space to document your nature observations in your own creative ways when your sense of wonder sparks!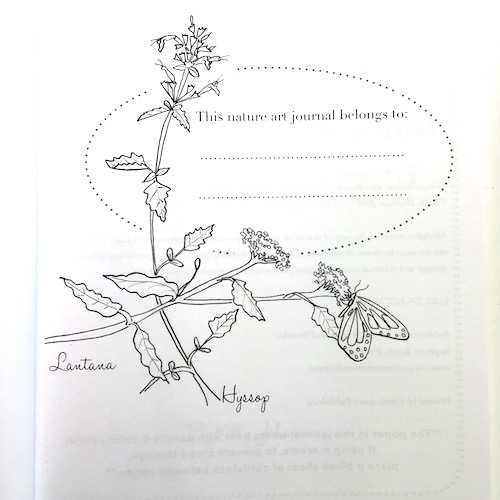 Play, Experience, & Assimilation
Creative outdoor play is important for every human and animal, and nature journaling is a fantastic way to build a deep bond between us and our Earth. But play alone won't build deep lasting connections.
That's where the nature journaling comes in. When we journal about our discoveries and experiences, we assimilate them fully and they become a part of our personal narrative. This plants them deep into the foundations of our lives, sprouting joy, peace, and wonder.
The 12 month Art & Nature Journal also includes unique ways to creatively connect with nature throughout the year beyond the monthly sections.
To encourage creative assimilation of experience the book includes:
* Additional hand drawn botanical illustrations for coloring
* Intention prompt page
* Reflection prompt page
* Spontaneous Sketching pages
* Notes pages
* Further research pages
* & a bonus flower symbolism coloring page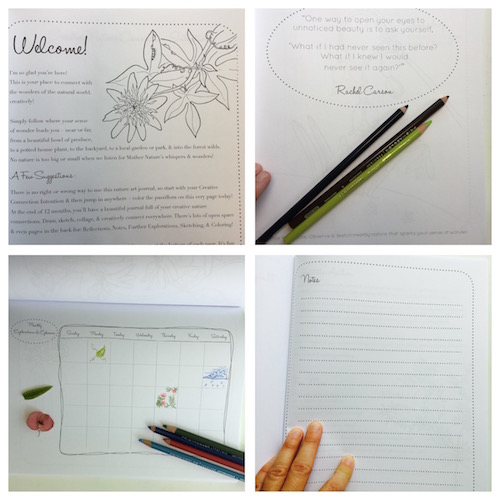 Artsy Details
Wondering what the actual pages in the book are like?
The book is 120 pages (front and back), 8.5″ x 11″ (nearly A4) size, and printed in black and gray on white paper. It has a sturdy, paperback, full color cover. It's light weight & easily fits in a tote bag or backpack for easy journaling.
The interior paper is a good quality for pencils, colored pencils, and pens. Personally, I really like the loose spontaneity of color pencils in the journal so far.
Coloring images, thumbnail sketch pages, and prompt pages are printed on one side of the pages only, so they can be removed if desired.
All of the art work is botanically inspired, drawn by me, and include the plant names and symbolism too!
The 12 Month Art & Nature Journals are published by Wings, Worms, and Wonder. You know I like to keep things DIY!
The books are printed by Createspace, so they are printed in the states (actually only 4 hours from my house which makes me feel good). Bonus – they are easily, affordably shipped around the world which is super exciting!! (I know from experience because I have already shipped to California, Canada, and New Zealand!)
Why have another journal sketchbook?
Because this one isn't blank!!
I know I have lots of unfinished (or un-started!) sketchbooks and journals too, lying around, that I don't give attention to for lots of reasons.
Consider this, Maria Montessori teaches us that freedom comes from structure. The 12 Month Art & Nature Journal provides you a balance of light structure to encourage your creative freedoms to bloom!
Montessori also emphasizes the preparation of the adult and role modeling. When we make time for creative nature connection ourselves, we show others the importance, and the benefits shine through in the way we live our lives. Actions speak louder than words!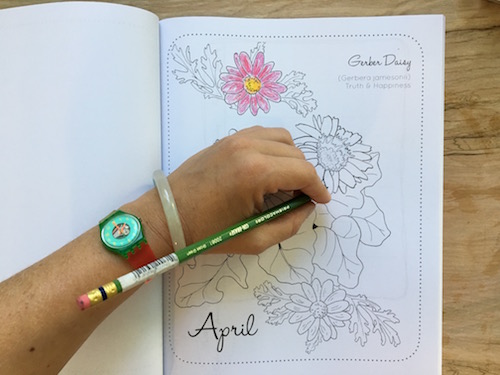 Time for Creative Nature Connection
The 12 Month Art & Nature Journal will inspire you to connect with nature in ways new and familiar each month, bringing the joy and relaxation of both art and nature to your life all year long!
It provides you with a gentle format for creatively connecting every month that won't overwhelm. This is especially great for the months or times of year we may be extra busy or less likely to get out.
It gives us an excuse to make time for nature every month. This journal offers us an opportunity to work in a format, and share with others working in the same format.  We all are creative connecting in our own styles and ways while on the same journey!
Plus, we can share our experiences, ideas and images online, encouraging each other along the way! Use #wingswormsandwonder & #12monthartandnaturejournal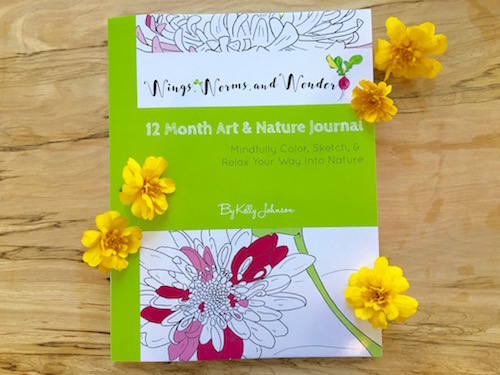 I offer this to you
From the world of Wings, Worms, and Wonder, I truly hope this book brings you joy, peace, and creative connection.
I look forward to embarking on this journey of connecting through the next 12 Months!
I am officially starting my 12 Month Art & Nature Journal today, November 1, will you join me?
I hope you love it as much as I do!! Enjoy!
---
But You don't have to take my word for it!
Check out this sneak peek by Montessori at Heart!

---
What month is toughest for you to get out creatively connecting with nature?
Share in the comments below!
Share your 12 Month Art & Nature Journal explorations on Instagram #wingswormsandwonder #12monthartandnaturejournal
Seeds to Sprout:
The new 12 Month Art & Nature Journal is also available in my Etsy shop if you'd like to purchase along with some stickers, Nature Journal Prompt Cards set, the book Wings, Worms, and Wonder, or another fun option!
Mark Your Calendars – Next week join me live Thursday 11/10/16 at 11am est for a fall journal sharing and chat on how to give nature for the holidays!! +there will be giveaways!! (Yep, a book and more!!) Stay tuned for more details in next week's post!