August 3-9 is officially the 15th annual National Farmers Market Week – as if every week isn't farmers market week around here! To celebrate, I have a little picture tour of some of my favorite farmers market vendors and the USDA's Top 10 reasons to shop at farmers markets. All great reasons, no ranking needed!!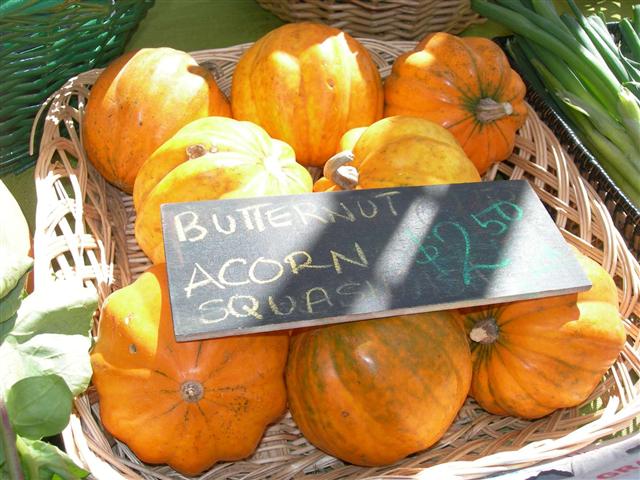 If you are a regular at your local farmers market this is a great week to let your farmers know how much you appreciate all their hard work. Being a small family (organic) farmer is REALLY HARD WORK!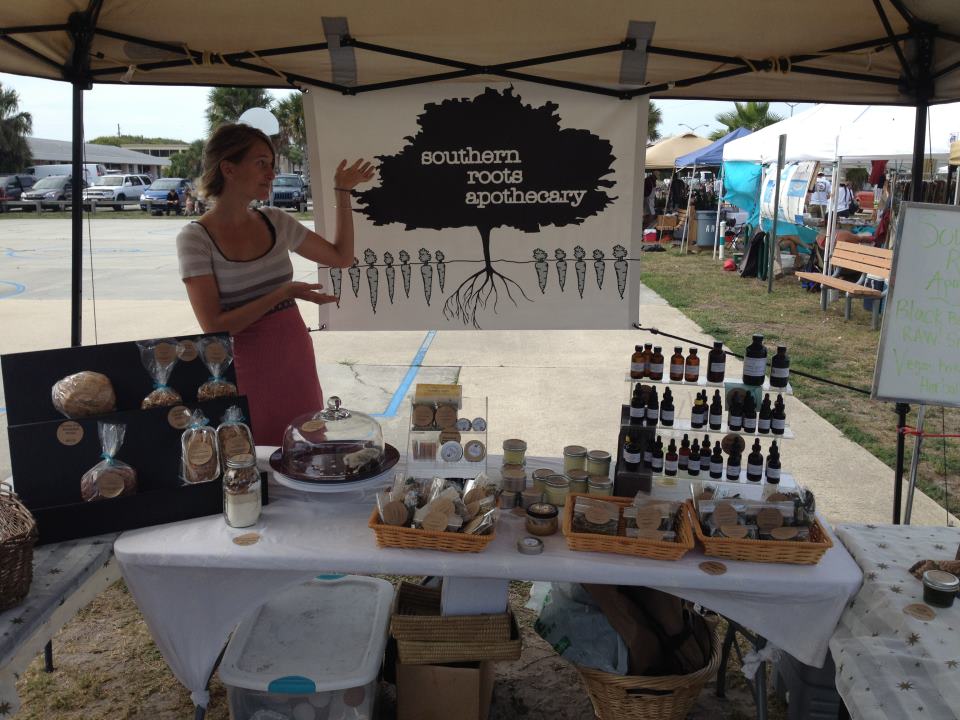 Souther Roots Apothecary is my favorite vendor to get regionally wildcrafted tinctures, salves, and teas, as well as homemade vegan gluten free dips and sweet treats!
If you have been wanting to check a farmers market out, but just haven't gotten around to it, this is a great week to seek out your local market because many markets around the country are having special events to celebrate fresh local food and the people who dedicate their live to keeping us healthy!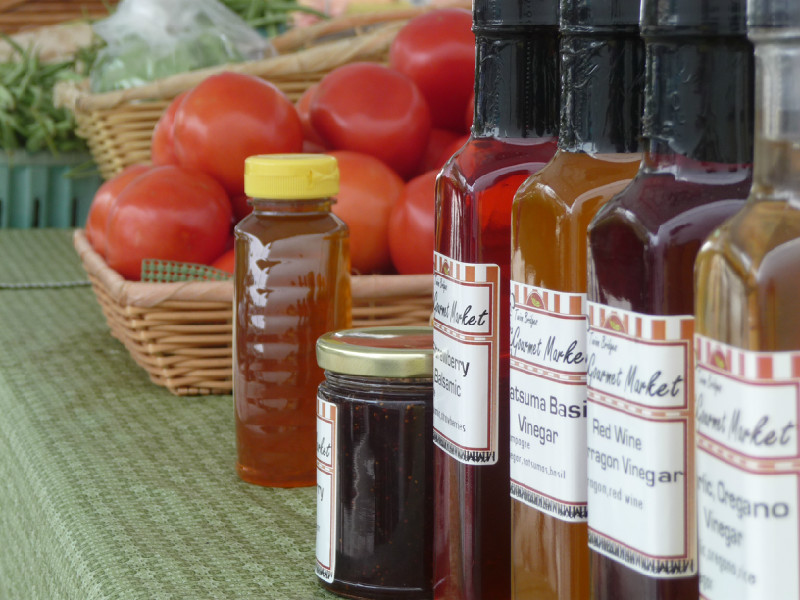 Like Twin Bridges Farm, many farmers also home make jams, vinegars, honey, and more on their farms!
Top 10 Reasons to Shop at a Farmers Market
(From Nutrition.gov/farmersmarkets)
"Farmers markets are easy to find.

Use the USDA Farmers Markets Search to find one near you. Due to their flexible locations, some community farmers markets provide fresh, healthy foods when other sources aren't as easily accessed. Learn more about how the USDA helps to expand healthy food access through the development of local food systems.
You can try a new fruit or vegetable!

 Have you ever tasted gooseberries or rhubarb? Many farmers markets offer lesser known fruits and vegetables, providing a variety that can be both tasty and nutritious. Learn how to select the best quality, how to store, and about the nutritional values of these rarer fruits and vegetables (and some common ones, too) in the Fruit Nutrition Database and Vegetable Nutrition Database.
Farmers often have good recommendations on ways to prepare their products.

 For more inspiration, visit Fruits and Veggies More Matters to see recipes using fresh fruits and vegetables.
Buy foods and see how they fit

with ChooseMyPlate. Create a healthy plate with goodies from your local farmers market. Visit different booths to pick up seasonal fruits and vegetables, as well as local dairy, grain and protein products so you can build your healthy plate
Farmers markets can be important anchors for vibrant communities.

 Meet your local farmers, learn about foods grown in your area and catch up with friends and neighbors while stocking up with local goods. Supporting your local farmers market strengthens your community. Learn how farmers markets impact your community in this section of the Know Your Farmer, Know Your Food Compass.
Fresh fruit and vegetables are full of antioxidants and phytonutrients.

What are these? Why do we need them? More information at What's in Food.
Freshly picked ripe food is at its peak in flavor and nutrition. 

Stop by your local farmers market today, learn about where your food comes from, and enjoy some delicious and nutritious food.
What if you don't have a farmers market near you? Look for roadside stands. They sell many of the same fresh, seasonal foods that farmers markets sell. How convenient it is to just pull the car over and shop!
Another great alternative is Community Supported Agriculture (CSA). These are farms where you buy into a season's worth of food. All you have to do is go once a week to pick up your food. Find a CSA near you. "
Dig Foods is one of my favorite vendors to get delicious locally grown prepared foods. I love the aesthetic experience of their booth. Shouldn't shopping be attractive and inspiring?  
That is a lot of good reasons, right? But they left my favorite off, it's fun! Going up to the farmers market on Saturday afternoon is one of the highlight s of my week. I get to see friends and former students, make plans and connections, share recipes and stories, and it makes me remember all the great things about my community. It is my social event of the week and as a bonus it all revolves around sustainable food!
Share what you love about shopping at your local farmers market in the comments below!
Post pics of your favorite vendors and the town you live in on Intsagram #wingswormsandwonder so we can visit them on our travels!
Seeds to Sprout:
Watch the video Fresh, Nutritious, Local on the top 10 reasons to shop at farmers markets. This is a quick fun watch.
Top 5 reasons to shop at the farmers market with kids by Let's Move. Let's move has lots of resources for adults to get kids healthy and moving!
Checkout this article on building Cultural Sustainability Through Farmers Markets, by Ed Avalos, USDA. This is a great blog post on ways rich cultures around the United States are preserved and created through local farmers markets. Teachers: this is great for Economic geography lessons! Get to know your local farmers and have them come into class for Agriculture Literacy Day next year! Local farmers are also generous classroom donators with time, foods, and resources!
My local markets are theBLFN Beaches Green Market in Neptune Beach, and the DIG, Local Mid-Week Market in Atlantic Beach, Florida. If you are ever in the area, be sure to stop by and say hi!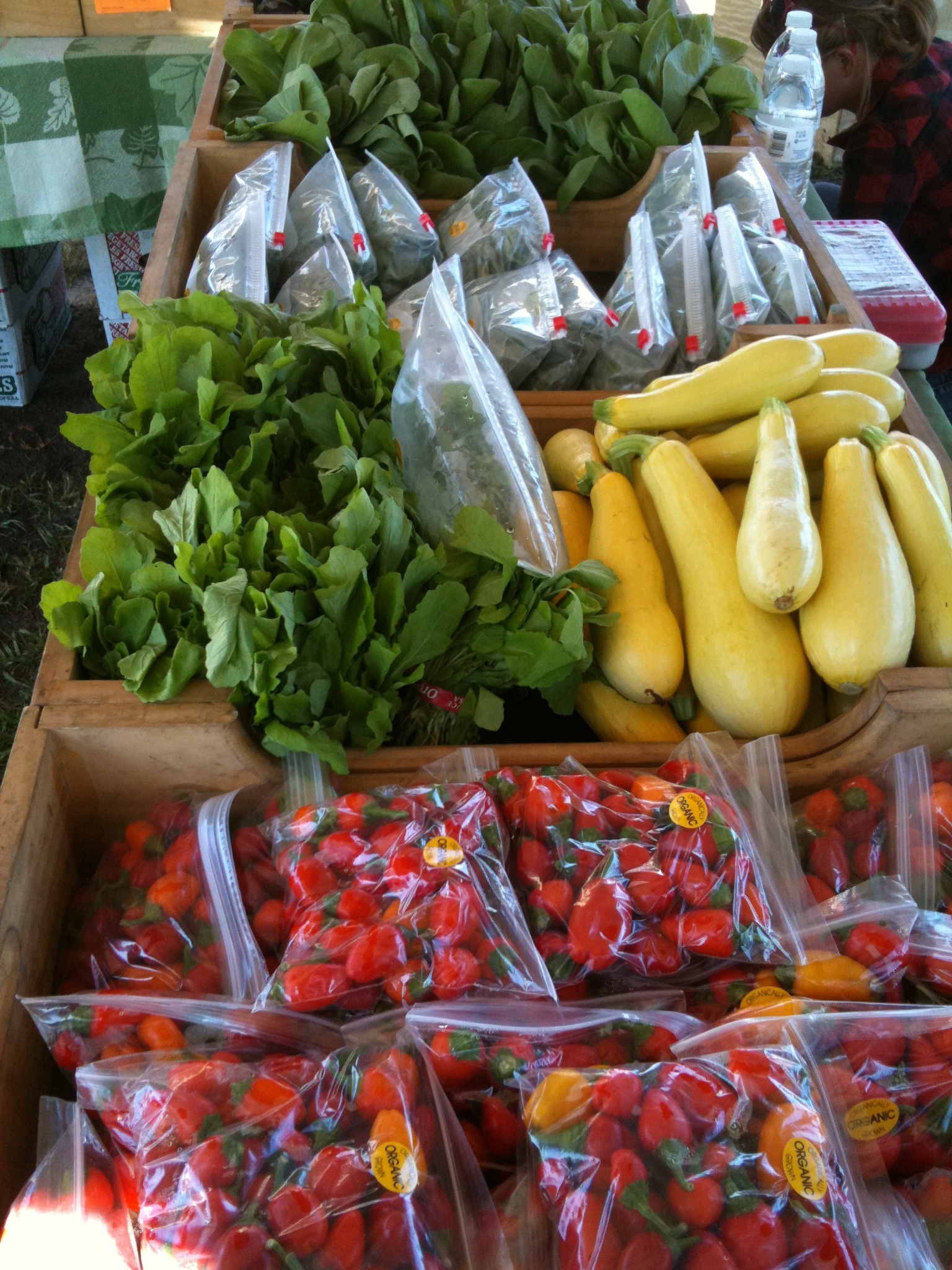 KYV Organic Farm makes eating a rainbow easy!